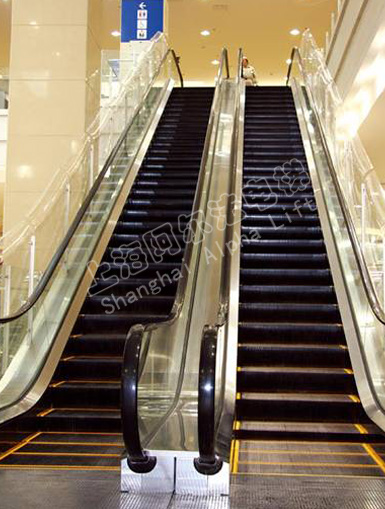 Main Features:

Good Operating Environment: Comfortable,Stable and Peaceful.
Saving Space: Smaller driving unit, the handrailsare also equipped with driving devices, saving more space.
High Safety and Reliability: Contactor-freecontrolling and soft stop function.
Easy Maintenance: Self-examination and longdistance communication facility, optional error display.

The handrail driving system has adopted the new-typed flexible tensioningsystem, with compact structure and easy convenience feature. The system ensuresthat the handrail runs synchronously with the lift step. Moreover, the servicelife of handrail can also be enhanced.
The handrail belt is specially manufactured black vulcanized rubber,with steel wires that have gone under pre-stress processing as thereinforcement. The hand belt is made from rubber, while the inner surface ofthe handrail belt is made by wear-resisting and water proof nylon, as the slidinglayer. The entire design can guarantee the lift with a long service life.

The intelligent auto lubricating system has been employed to lubricatemoving parts regularly, to make the operation and maintenance of the system moreeasily.
The high strength stainless steel is used to manufacture the steps forthe lifts. The steps are process with black electrophoretic paint, the top teethhave been polished, and the step surface has been process with anti-skiddingfeatures. The teeth of steps can match perfectly with kick-plates of the lifts,so as to avoid possible emergency accidents, such as toe caps' being clapped bythe lift. Such designs can reduce the weight of lifts, reducing the operatingnoise, and improving the artistic appearance of lifts. Moreover, all steps canbe dismantled without having to demount the link chains. The guide shoe haslimited the gap between steps and the kick-plates. Guide shoes are even easierto be replaced. Guide shoes are equipped with high strength galvanized axes.
When the auto escalator or moving walk encounters error, the error autodisplay function will immediately show the code of error, so as to conveniently,timely and accurately eliminate the error.
< Back >